With Rocky Mountain vistas serving as an unmistakable backdrop, we have built a reputation for helping numerous communities in Colorado and the surrounding Rocky Mountain region solve some of their most pressing challenges. From infrastructure work in water and wastewater treatment to improving energy reliability and efficiency, we are a key player in improving the quality of life for the region's people.
We've branched out to better serve clients in the West: Visit us in Portland, Oregon, and Seattle, Washington.
Our Denver office has developed specialties and corporate leadership in:
---
The list for 2022 is out, and we're excited to be the No. 5 Design Firm, as ranked by Engineering News-Record Mountain States.
---
We're proud to make The Denver Post's list of the Top Workplaces — 11 years running, which happens to be every year since the list began. We were excited to be ranked in the midsize employer category in 2022, confirming what we've known all along.
---

Colorado Biz magazine named us a finalist for its Top Company 2020: Construction & Engineering. We're proud to be in such good company! Check out the profile.
---

We're honored to be named a Champion of Hope award winner by Mile High United Way at the annual Community Champions celebration, which honors corporate partners for exceptional philanthropic investment in the community through a partnership with United Way.
---
We are also honored to be recognized by the Denver Business Journal as No. 8 on the Best Places to Work in 2017 list among extra-large-sized companies, as well as one of the Healthiest Employers for 2015, 2019 and 2021.
---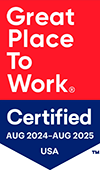 Want to know what makes Burns & McDonnell a great place to work? Great Rated!, the organization behind the rankings used by Fortune magazine, shares details about what our people say and do that puts us on the list. Read more