Burns & McDonnell has a strong presence in the Pacific region, serving Department of Defense (DOD) agencies, the commercial aviation sector, and corporate and municipal energy clients. During the past decade alone, we have designed more than 30 projects in Hawaii, Guam, China, Japan, Malaysia, South Korea, Philippines, Singapore, Taiwan and Vietnam.
Our history in the Pacific region demonstrates an understanding of tropical environment design and knowledge of construction components and systems that mitigate the aggressive environmental conditions.
Through our current and past work with clients such as NAVFAC Pacific, the Hawaii Air National Guard and the Defense Logistics Agency, Burns & McDonnell has developed strong working relationships with local subconsultants who provide specialized services and a pertinent historical and cultural perspective.
With Burns & McDonnell, projects benefit from the range of professional disciplines that can be called in from any office. Our architects, engineers, designers and other professionals bring the design, construction and environmental experience to bear on the planning and permitting of projects.
Check out the most current issue of our annual Aviation Special Report >
---
We're proud to be among the 2023 Best Workplaces in Hawaii, small companies category, as designated by The Pacific Business News.
---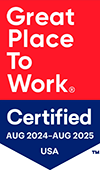 Want to know what makes Burns & McDonnell a great place to work? Great Rated!, the organization behind the rankings used by Fortune magazine, shares details about what our people say and do that puts us on the list. Read more