Our team in Morristown is positioned for access to urban project needs while still accessible to our clients and partners based across the region. As a top national firm, we support projects with a full range of engineering, architecture, construction, environmental and consulting solutions.
From design and construction for military installations to electrical transmission and distribution services, our New Jersey team can support your projects at every stage.
---
We're proud to enter the ranks of the Best Places to Work in New Jersey for the first time in 2021, #20 in the large companies category, as listed by the New Jersey Business Journal.
---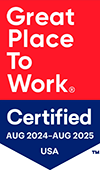 Want to know what makes Burns & McDonnell a great place to work? Great Rated!, the organization behind the rankings used by Fortune magazine, shares details about what our people say and do that puts us on the list. Read more