Burns & McDonnell has been growing nationwide. Companies in the West know us from work with long-standing clients Deseret Power, the University of Utah and PacifiCorp.
With our Salt Lake City office, we are positioned to provide full-service consulting on projects ranging from facilities design to pipeline and power line routing to federal permitting and environmental compliance.
Because Burns & McDonnell is a 100 percent employee-owned firm, every team member has a vested interest in making you successful, so we approach your project with an unparalleled dedication to exceeding your expectations. We work harder, respond faster and deliver more.
For you, that translates into a steadfast commitment to your needs and high-quality, cost-effective design and construction of projects that work for you.
---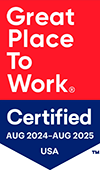 Want to know what makes Burns & McDonnell a great place to work? Great Rated!, the organization behind the rankings used by Fortune magazine, shares details about what our people say and do that puts us on the list. Read more