The island of Puerto Rico is vibrant and rich in culture and history. Burns & McDonnell has supported the design and construction of critical infrastructure in Puerto Rico for more than half a century — and continues to do so — providing technical experience for projects ranging from airport infrastructure and manufacturing to high-voltage electrical transmission and resilient power distribution.
Most recently, the island is rising to the challenge of revitalizing its infrastructure in the wake of devastating hurricanes Irma and Maria in 2017. We've been a part of power grid reconstruction from that time and continuing through today.
Our experience in program management, electrical utilities, airports and related infrastructure is moving public and private projects forward across key sectors. We deliver flexible, innovative and cost-effective engineering, program management and construction solutions backed by our worldwide team of professionals.
---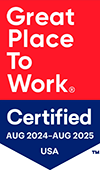 Want to know what makes Burns & McDonnell a great place to work? Great Rated!, the organization behind the rankings used by Fortune magazine, shares details about what our people say and do that puts us on the list. Read more