History and opportunity combine all around Aiken, from its post-Civil War growth to its strength as a nuclear production center during the Cold War. The region continues to lead defense and nuclear initiatives, and our Aiken office is poised to support projects critical to national security, as well as provide key infrastructure, process engineering and construction experience for clients across all industries.
Our Aiken office works closely with our locations nationally and internationally to provide industrial, nuclear engineering, facility planning and design, project management, construction management, and oil and gas industry solutions, among the full breadth of our engineering, architecture, construction and environmental services.
Working in combination with our other offices in the Southeast and across the country, we produce sustainable and cutting-edge projects that support the infrastructure, manufacturing and facilities needs of the entire region.
---
We are honored to debut at #3 in the large company category of SC Biz News' Best Places to Work in South Carolina for 2020.
---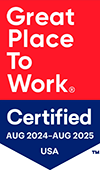 Want to know what makes Burns & McDonnell a great place to work? Great Rated!, the organization behind the rankings used by Fortune magazine, shares details about what our people say and do that puts us on the list. Read more