The Bismarck area and the communities across the northern Plains have a reputation for hard work and innovation. Our office is focused on the comprehensive engineering, architecture, construction, environmental and consulting services that support those who own and manage the infrastructure that makes the region go.
We work with the resources and capabilities of our global multidisciplinary firm to take solutions from concept to completion, whether we're helping capture and move renewable power on the grid or supporting new ways to transport goods on the ground or in the air.
The resources of North Dakota are plentiful and important, and our team executes critical projects that protect them and promote efficient, effective management. Our capabilities in design-build/engineer-procure-construct (EPC) construction allow our solutions to be swiftly implemented, optimizing investments into timely, value-driven outcomes.
---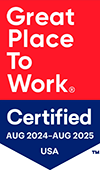 Want to know what makes Burns & McDonnell a great place to work? Great Rated!, the organization behind the rankings used by Fortune magazine, shares details about what our people say and do that puts us on the list. Read more