Our network of employee-owners in the upper Midwest continues to grow with our expansion in Madison. This location offers specialized services for the manufacturing, power and environmental markets as well as a connection with our AZCO construction subsidiary in nearby Appleton.
The team provides integrated engineering, design and construction in the rapidly expanding food, beverage and consumer products industry as well as pharmaceutical and life science manufacturing. Through our engineer-procure-construct (EPC) project delivery, we bring success to clients within the region and beyond.
We also work with power companies to expand their renewable power footprint and address critical infrastructure needs for today's world. Our team evaluates environmental sites for sediment and hydrogeological impacts, enhancing remediation systems for a range of contaminants.
---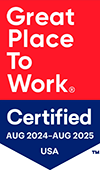 Want to know what makes Burns & McDonnell a great place to work? Great Rated!, the organization behind the rankings used by Fortune magazine, shares details about what our people say and do that puts us on the list. Read more