The employee-owners in our downtown Los Angeles office connect with our Orange County, San Diego, San Francisco and Walnut Creek offices — and offices across the country — to deliver environmental, engineering, construction and consulting services. As a 100 percent employee-owned firm, our focus is on delivering success for our clients.
Los Angeles was home to our first California office in 1923, where we provided waterworks, sewer, sewage disposal, electric lighting and public utility appraisal services. We reopened a downtown office in 2018, continuing our statewide growth momentum and expanding services in the metropolitan area.
Our work in the region encompasses the aviation, power, oil and gas, federal and military, municipal, and environmental industries, and our team of professionals is ready to apply our full complement of corporate resources to meet client needs in any market. Our specialties in Los Angeles include:
Business Diversity
We are committed to maintaining a diverse mix of suppliers, because they are key in providing innovative ideas to help our clients achieve success. By actively helping a wide variety of businesses belong to our project teams, we enrich those projects and our communities in ways that go beyond the tenets of law. These efforts have been highlighted by leading California organizations, including the Southern California Minority Supplier Development Council, WTS San Diego and the City of Los Angeles Public Works.
Find out more about our programs:

---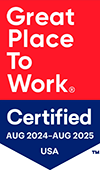 Want to know what makes Burns & McDonnell a great place to work? Great Rated!, the organization behind the rankings used by Fortune magazine, shares details about what our people say and do that puts us on the list. Read more


---

California Contractor #1107087