The Washington, D.C., metropolitan area has a population of 5.8 million, the seventh-largest metropolitan statistical area in the country. The centers of all three branches of the federal government are in the District of Columbia, making it the hub of the nation's regulatory system. The area is also known for health and science, which is in part attributed to presence of the prestigious Johns Hopkins University, with its extensive undergraduate and graduate schools, the University of Maryland, Georgetown University, Howard University and other institutions.
Our Washington, D.C., office is staffed to serve our government and energy clients in the Mid-Atlantic region, working in concert with offices in Richmond, Roanoke, Raleigh, Greenville-Spartanburg, Baltimore and Norfolk-Hampton Roads, to help build success for clients in all markets. Our experienced teams maintain close ties to information and regulations critical to all industries so that we can help our clients remain at the top of their respective fields. From water to power, from construction to remediation, Burns & McDonnell has a rich history with governmental and Department of Defense services, the U.S. Army Corps of Engineers, the National Institutes of Health, the Architect of the Capitol, and the Naval Facilities Engineering Command. We are proud to serve our government and the capital city.
Focused on facilities and infrastructure needs in the Mid-Atlantic region, the Washington, D.C., office will continue to grow its facilities, energy and security footprint, serving government, manufacturing, healthcare, university, energy and utility clients. Burns & McDonnell's award-winning designs and construction modernize our country and provide high-performance, energy-efficient, resilient facilities (cyber/physical) to support the community and mission-critical projects. Additionally, we are at the forefront of implementing smart/microgrid, renewable and alternative OnSite Energy & Power initiatives.
---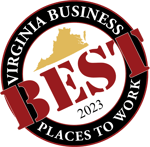 We're proud to be #9 among large employers in the Virginia Business Best Places to Work rankings for 2023. It's all about ownership. See the list
---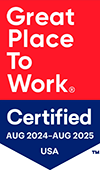 Want to know what makes Burns & McDonnell a great place to work? Great Rated!, the organization behind the rankings used by Fortune magazine, shares details about what our people say and do that puts us on the list. Read more