Baltimore is home to a growing number of secure and technically advanced facilities, building on its history as a hub for Department of Defense operations, U.S. Army Corps of Engineers, business incubator labs, and biotech and pharmaceutical research. The strong higher education presence — including 10 accredited two- and four-year colleges in the state — makes it an attractive center for building businesses that require a well-trained workforce.
The Inner Harbor and Port of Baltimore provide critical shipping access while also being developed into attractive destinations for locals. Maryland waterways, shoreline, mountains and state parks combine to appeal to those looking for a place to create their home base.
Our Baltimore team works in concert with our offices nationwide and across the Mid-Atlantic region — Norfolk-Hampton Roads, Virginia; Richmond, Virginia; Roanoke, Virginia; Raleigh, North Carolina; Greenville-Spartanburg, South Carolina; and Washington, D.C. — to help build success for clients in all market sectors.
Located within a one-hour drive from Washington, D.C., the diverse team includes talent focused on critical industries and markets, including: power transmission and distribution; renewable generation and district energy; central heat and power plants; program management services; DOD and other federal agency initiatives; environmental services, higher education facilities; industrial sites and commercial manufacturing; and master planning with an emphasis on campus environments.
The critical infrastructure developed and housed in the region requires an emphasis on cybersecurity and communications networking. We work with 1898 & Co., our business, technology and security consulting arm, as well as our in-house networking and integration teams to meet these needs.
---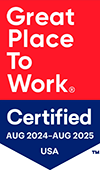 Want to know what makes Burns & McDonnell a great place to work? Great Rated!, the organization behind the rankings used by Fortune magazine, shares details about what our people say and do that puts us on the list. Read more