Burns & McDonnell has become the engineering consultant of choice in Texas from its foundation in Houston. Backed by a nationwide network of multidisciplinary experience, we design and build the infrastructure that transmits wind power from West Texas. We modernize oil and gas plants throughout the region and enable facilities to support military missions large and small. We're at the forefront of implementing the Smart Grid and renewable energy initiatives that will sustainably power Texas for generations.
The Houston office specializes in:
Since Burns & McDonnell is a 100 percent employee-owned firm, every team member has a vested interest in making you successful, so we approach your project with an unparalleled dedication to exceeding your expectations.
Hear about our work on the Texas Medical Center campus:
Recent accolades include:
---
The Houston Chronicle has placed our office among the top workplaces in Houston since 2010. It's all about employee ownership. Learn more
---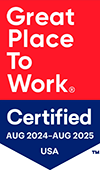 Want to know what makes Burns & McDonnell a great place to work? Great Rated!, the organization behind the rankings used by Fortune magazine, shares details about what our people say and do that puts us on the list. Read more
---
The Houston office doesn't just work hard; employee-owners play hard, too. From fun activities to giving back through projects for Habitat for Humanity and fundraising for agencies like United Way and Junior Achievement, Houston staffers have a blast building camaraderie while making a difference for the community.