Located in the Land of 10,000 Lakes, Burns & McDonnell's Minneapolis-St. Paul office was established to serve our Upper Midwest clients. Strong sectors of the area's economy such as manufacturing, biotechnology and agribusiness allow Burns & McDonnell to deliver a variety of engineering, construction and building commissioning services to the local marketplace to help make our upper Midwest clients successful.
The Minneapolis office specializes in:
The Minneapolis-St. Paul office is branching out to serve our clients better: Visit us in Duluth, Minnesota, and Sioux Falls, South Dakota.
---

Minnesota Business magazine has ranked Burns & McDonnell as one of the 100 Best Companies to Work For in the state in 2013-17.
---

The Star Tribune recognizes what our employee-owners already knew: Burns & McDonnell is a great place to work! We're proud to rank among the best workplaces in the metro state from 2012-2016, 2023, and as a national standard in 2017, 2019 and 2021-2022.
---
The Minneapolis/St. Paul Business Journal ranks the Best Places to Work. We're proud to be #10 in the large business category for 2023.
---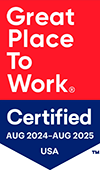 Want to know what makes Burns & McDonnell a great place to work? Great Rated!, the organization behind the rankings used by Fortune magazine, shares details about what our people say and do that puts us on the list. Read more