With multibillion dollars of experience designing and building the infrastructure that powers the Northeast, our Wallingford office has become a center for excellence in program management, developing the firm's award-winning, integrated program management tools OneTouchPM® and NoTouch ReportingTM.
Home to more than 400 Burns & McDonnell employee-owners, the office ranks among the firm's fast-growing offices and anchors our presence in the Northeast, working closely with our offices in Portland, Maine; Boston; New York; Morristown, New Jersey; and Philadelphia.
The office specializes in:
---
Since 2010, the Hartford Business Journal has ranked Burns & McDonnell as one of the Best Places to Work in Connecticut. We're proud to be #12 on the large companies list in 2021!
---
The Hartford Business Journal also has ranked us as a Healthiest Employer since 2018. In 2022, we are #3 on the list!
---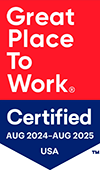 Want to know what makes Burns & McDonnell a great place to work? Great Rated!, the organization behind the rankings used by Fortune magazine, shares details about what our people say and do that puts us on the list. Read more