California and the San Francisco Bay area is home to a diverse business climate, which makes it a perfect growth area for our wide-ranging services. Our office in Walnut Creek demonstrates our expanded commitment to the region and opens up convenient and connected opportunities for our employee-owners.
Working in combination with our offices in San Francisco, Orange County, Los Angeles and San Diego, our team delivers solutions to the complex environmental and regulatory challenges of the West Coast. We also provide a depth of technical experience and solid regulatory relationships that help our clients reach their objectives and meet regulatory requirements.
Our team applies the full complement of corporate resources across the aviation, power commercial, federal and military, municipal and environmental industries. Our specialties in the Bay Area include:
We also have partners with 1898 & Co. — our business, technology and security solutions consultancy — in the office, working with us on a full range of services that support strategic planning, analysis, design and construction of complex electrical systems and other critical infrastructure.
Business Diversity
We are committed to maintaining a diverse mix of suppliers, because they are key in providing innovative ideas to help our clients achieve success. By actively helping a wide variety of businesses belong to our project teams, we enrich those projects and our communities in ways that go beyond the tenets of law. These efforts have been highlighted by leading California organizations, including the Southern California Minority Supplier Development Council, WTS San Diego and the City of Los Angeles Public Works.
Find out more about our programs:

---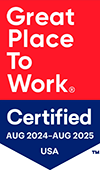 Want to know what makes Burns & McDonnell a great place to work? Great Rated!, the organization behind the rankings used by Fortune magazine, shares details about what our people say and do that puts us on the list. Read more
---
California Contractor #1107087