Southeast Asia is changing at a rapid pace. Our office in Manila delivers services supporting engineering projects that enable broad growth and development across the region. Our services range from fossil and renewable generation to transmission and distribution, from distributed energy resources to airport planning and design.
Our worldwide experience across critical industries provides confidence in new project development and infrastructure updates alike.
We leverage our project management skills and specialist capabilities to deliver successful projects in the Philippines and beyond.
---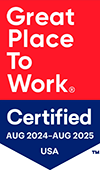 Want to know what makes Burns & McDonnell a great place to work? Great Rated!, the organization behind the rankings used by Fortune magazine, shares details about what our people say and do that puts us on the list. Read more